makanda events calendar
View the Touch of Nature Southern Illinois University EVENTS CALENDAR
Makanda hosts two major events each year:
MAKANDA SPRING FEST: in Downtown Makanda (Makanda Boardwalk).
Makanda Spring Fest has been downsized to a "Mini Fest" and is usually the first weekend in May. Keep up to date on happenings at the Boardwalk on their Facebook Page. The truth is any day is a good day to visit the Boardwalk!
MAKANDA VULTURE FEST: in Downtown Makanda (Makanda Boardwalk).
Vulture Fest 2017 was a great success in spite of the rain toward the end of the day Sunday. Stay tuned for next years dates.
Black vultures and turkey vultures fly and swoop in the skies surrounding Makanda each fall. Local residents await their return each fall as an end to the hot summer and the beginning of cooler fall weather. This event is a celebration or the Vulture's annual migration with live music and displays by local artists for purchase.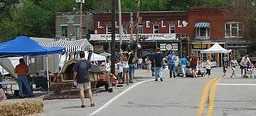 These events end at the scheduled time and camping, alcoholic beverages, and fires or fireworks are strictly prohibited.

Blue Sky winery located in Makanda Township is the host to numberous events thoughtout the year. VIEW BLUE SKY WINERYS EVENTS PAGE.
Located near Downtown Makanda, the B.C. Ross Community Center is available for meetings, events, reunions, and other functions. Rental is available for a fee. Contact President Tina Shingleton at 618.457.7739.