Southern Illinois Most Hippie Town Gateway to the Shawnee National Forest
The Most Hippie Town in Illinois
When you think of Makanda most picture the Makanda Boardwalk, dubbed the most hippie town in Illinois. It is the home of several local attractions, and unique shops offer a wide variety of shopping experiences. Enjoy the many shops located on the Makanda Boardwalk and 'downtown' Makanda, or venture out into the township of Makanda. Learn more about the history of Makanda and the Makanda Boardwalk.
Makanda Boardwalk Local Artisans and Unique Shopping 'Downtown'
What speaks "hippie town" more than local art? Here are some of the highlights of the Makand Boardwalk and other area attractions.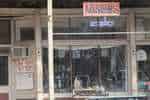 Visions Art Gallery features local artists and their works. From paintings, stained glass, to ceramics, it is a must see on your visit to the valley of the arts. Open year round.
618-549-5523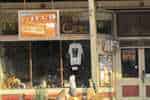 Meanwhile, the Makanda Trading Company offers a vast variety of art and gifts from around the world. There is something for everyone at the Makanda Trading Company. Open daily from 9 am – 5 pm.
618-351-0201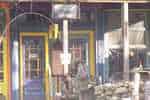 Rain Maker Studio displays impressive metal work from jewelry, sculptures, and fountains made by an internationally known artist. Visit the 1-acre sculpture garden year round. Open daily from 9 am – 5 pm
618-457-6282
Eventually, you can cross the bridge to Allan Stuck Studio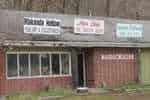 . Take the time to visit the home of a world-renowned sculpture and jewelry designer. Hollywood celebrities wear his jewelry designs. Specializing in stone carved jewels and set in 3-dimensional mountings. Custom work is available upon request. Open every weekend and weekdays when the open sign is present or call for an appointment 618-529-2341
makanda dining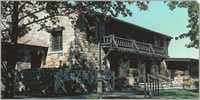 The famous Giant City Lodge, known for is fried chicken is popular with visitors. It is an impressive structure built by the Civilian Conservation Corps. The CCC was a relief program for unemployed married men of the time, 1933 to 1942. The lodge closes for the winter from early December until early February. Otherwise, open seven days a week. Contact them for reservations 618-457-4921 or visit the Giant City Lodge website.

Makanda Country Store Located on the historic Makanda Boardwalk features gourmet coffee, sandwiches, and hand-dipped ice cream. The store also has an array of hot sauces for purchase. Perfect spot to have lunch or stop in for ice cream and soak up the culture of downtown. Open daily from 9 am – 5 pm year round.

Blue Sky Winery offers a variety of hearty sandwiches, pizzas, and snacks, not to mention great wine. Also, known for the famous, flavored dipping oils served with bread. Why not, enjoy lunch on the luxurious winery grounds while you sip world-class wines or local beer. Live entertainment almost every weekend.
Makanda horseback riding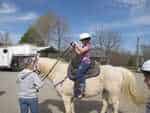 Horseback riding at Giant City Stables offers guided horseback trail rides. They also provide a variety of summer horse camps and horseback riding lessons for groups and individuals. For our younger horse lovers, we offer pony rides. The Stables is open Mid March through Mid November for guided horseback trail rides and open year round for all other activities.
Rose O Sharon Equine Farm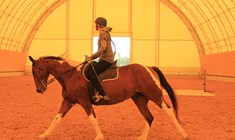 located on the beautiful, rolling hills of Makanda, IL. R.O.S.E. Farm is just 10 miles South of Carbondale, IL off of old Route 51. It is adjacent to the Cedar Lake portion of the River to River Trail. We currently offer pasture board with run-in sheds, round pen, and tack-storage building. We also have a wash area and offer Lessons. Looking for training or horse leasing, give us a call. Our facility also has trail access, 70 acres to ride the perimeter and 40 acres to ride throughout. Not to mention our 82' x 180' Coverall Indoor Arena with Fiber.
makanda hiking, rock climbing, and more outdoor activities
Little Grassy Lake Campground and Marina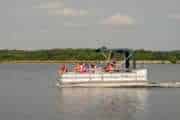 on Little Grassy Lake located inside The Crab Orchard National Wildlife Refuge. Little Grassy offers boat rentals and campgrounds. It provides boating and fishing opportunities where the fisherman is king, and the Bass and Crappie are his chief antagonist. Where 1,000 acres of crystal clear water, 4 miles long, 1 mile wide, up to 80 feet deep and 31 miles of wooded rocky shoreline create the most scenic lake in southern Illinois
Touch of Nature (part of Southern Illinois University) offers outdoor education programs, an event venue for weddings and conferences, and summer camps and day learning adventures.
wineries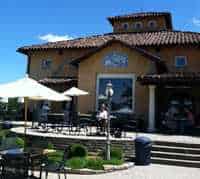 Blue Sky Winery anchors the eastern end of the Shawnee Hills Wine Trail. This winery offers you a taste of Tuscany in the hills of Southern Illinois. Open year-round, seven days a week, to provide excellent Illinois wine. They offer Wine tasting, a variety of food, as well as wine-alternatives such as beer and mixed drinks. Also is a sizeable indoor seating area and two beautiful outdoor terraces that overlook our vineyard and the rolling countryside.

Feather Hills Vineyard and Winery previously Orlandini is under new ownership. Keep your eye on this winery as the new owners transform the experience in this established vineyard.
zip line now open!
Shawneezip.com Zip through 83 acres of the Shawnee National Forest. This brand new zip line tour is an exciting way to experience the flora, fauna, geology, and history of the outdoors. Safely traversing an established route of ziplines and aerial bridges between platforms built in the trees. A canopy tour's purposeful utilization of the natural terrain coupled with an intentional low environmental impact delivers an adrenaline-filled adventure and educational experience!
Come on down to the most hippie town in Illinois.